If you love coffee, enjoy making them, or cannot function without them, we recommend these seven coffee recipes for your daily caffeine fix.  They are not your regular black coffee, cappuccino or latte, but an interesting mix of ingredients to give you that extra punch. Read more to find out!
Thai Iced Coffee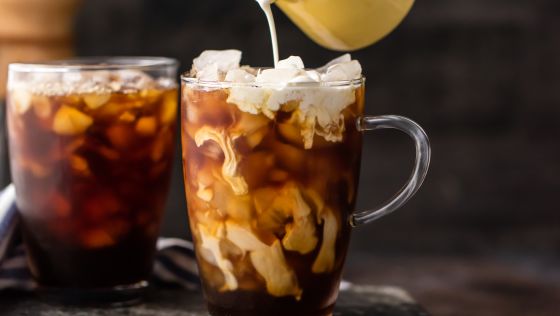 Photo credit: Genius Kitchen
You've heard of Thai Iced Tea, but what about Thai Iced Coffee? It is the mix of ground cardamom and almond flavouring that make this coffee so tropical and refreshing. This recipe serves 4 – you can either make this for your family or store it in an alfi® carafe to enjoy throughout the day. 

Find the recipe here.
Apple Iced Mocha

Photo credit: Monin
This recipe is straightforward and easy to make – a quick fix if you need coffee urgently. All you need is: chocolate sauce, apple syrup, espresso, milk and ice to keep your coffee chill.

Tip: Instead of Monin dark chocolate sauce and apple syrup, you can opt for other brands that are available in the supermarket too.

Learn to make one here.
Red Eye

Photo credit: Genius Kitchen
Can't keep yourself awake in the morning? Try Red Eye, which is a combination of hot coffee and espresso. This coffee-on-coffee formula will give you an instant kick and makes sure you stay awake for at least a couple of hours.

Retain the temperature by storing the hot coffee in an alfi® Kugel carafe, which is designed to keep your beverage warm for at least 12 hours.

Here's how you can prepare the Red Eye.
Mint Espresso

Photo credit: Lavazza
For those who love mint and coffee, this recipe is a must-try. To create your own mint milk cream, combine milk with double cream and mint syrup, and whip the mixture with an electric whisk.

Find the recipe here.
Toasted Coconut & Rum Iced Coffee

Photo credit: Hungry Girl Por Vida
For an alcoholic indulgence, try the Toasted Coconut & Rum Iced Coffee, which is something you'll never find at Starbucks or other coffee shops. This recipe requires some baking, simmering, brewing and waiting, which is why we recommend this for special occasions or parties you will hosting. Pair that with great hosting skills and you'll have yourself an amazing party.

Check out the recipe here.
Coffee Ice Cubes
Photo credit: Kitchen Treaty
Ever wasted coffee because the ice in it melted and diluted your drink? This is the simplest coffee recipe you will ever find to solve your problem. The beauty of Coffee Ice Cubes is that the ice cubes are made of coffee, which means your iced coffee will not be watered down.

Try out this recipe.
Long Island Iced Coffee
Photo credit: Super Golden Bakes
While there is no tea in Long Island Iced Tea, there sure is coffee in this one. The caffeinated version of this alcoholic beverage is both refreshing and potent, perfect for those who love coffee and alcohol.

Find the recipe here.